TEXTS:
ARMORIAL and GALLERIES:
» Modern Russian Heraldic Art
»» The Guild of Heraldic Artists
THE OPEN ARMORIAL:
» Vol.I: the Commoners
» Vol.II: the Noble Families
» Vol.III: the Corporations
» Vol.IV: the Ecclesiastical Heraldry
» Supplement
ALMOST HERALDRY:
» Nobility
ORDERS, AWARDS, INSIGNIA:
» Imperial Orders of Chivalry
» Modern Orders and Awards
» Insignia of Rank and Office
» Fontes Honorum
» Russia and the S.M.O.M.
» Russian Heraldry That Is Not
» F.A.Q.
» Links
Section: Vol.I: the Commoners
Messrs Andersen (of the City of Vancouver, Canada)
Author and artist: Michael Medvedev, GHA[R]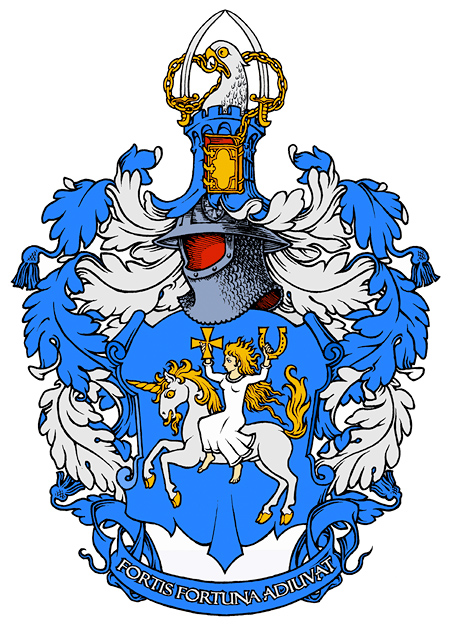 Azure a maiden Proper vested Argent and barefoot, her loose hair Or, holding in her elevated arms a cross formy and an inverted horseshoe also Or, and seated sidesaddle on a horse-tailed unicorn courant Argent armed, orbed, langued, unglued, barbed, maned and queued Or.
Above the shield is placed a helmet befitting his degree (a simple steel helmet, videlicet a chapelle-de-fer with a camail) with a mantling Azure doubled Argent and upon it, without a wreath, is set for a Crest a tower Azure charged with a book closed and clasped Or edged Gules, upon which tower two sabres placed archwise Argent hilted and pommeled Or, and betwixt the sabres, issuant from the tower a falcon's head Argent orbed Or, holding in his beak also Or an end of a chain of the same entwining the sabres and affixed to the book.
Motto "FORTIS FORTUNA ADJUVAT" written in characters Argent on a ribbon Azure.
Arms were designed (in a close collaboration with the armiger) and painted by Michael Y. Medvedev, GHA[R], and assumed by Andrew Andersen and his son Lars Andersen on the 9th of November, 2010, in Vancouver (British Columbia, Canada).
Messrs Andersen descend in the direct male line from the subjects of the Russian Empire, and they assumed these arms in their «Russian capacity», as an additional link to the land of the ancestors. The mixture of motifs derived from the Polish noble clan arms Jastrzębiec (the cross and the horseshoe), Rawicz (the riding maiden) and Bończa (the unicorn) reflects the armiger's descent via female lines.
* * *
»» Do you wish Michael Medvedev to make a unique, original painting of your coat-of-arms, flag or any piece of heraldic art?
»» Contact the artist for commission: crusilly@gmail.com
You may do it right here! Or just enjoy more heraldic artwork by the artist!