TEXTS:
ARMORIAL and GALLERIES:
» Modern Russian Heraldic Art
»» The Guild of Heraldic Artists
THE OPEN ARMORIAL:
» Vol.I: the Commoners
» Vol.II: the Noble Families
» Vol.III: the Corporations
» Vol.IV: the Ecclesiastical Heraldry
» Supplement
ALMOST HERALDRY:
» Nobility
ORDERS, AWARDS, INSIGNIA:
» Imperial Orders of Chivalry
» Modern Orders and Awards
» Insignia of Rank and Office
» Fontes Honorum
» Russia and the S.M.O.M.
» Russian Heraldry That Is Not
» F.A.Q.
» Links
Section: Michael Shelkovenko, GHA[R] vice-chairman
Mrs Maria Islenyeva (ne'e Sheremeteva)
Artist: M. Shelkovenko, GHA[R]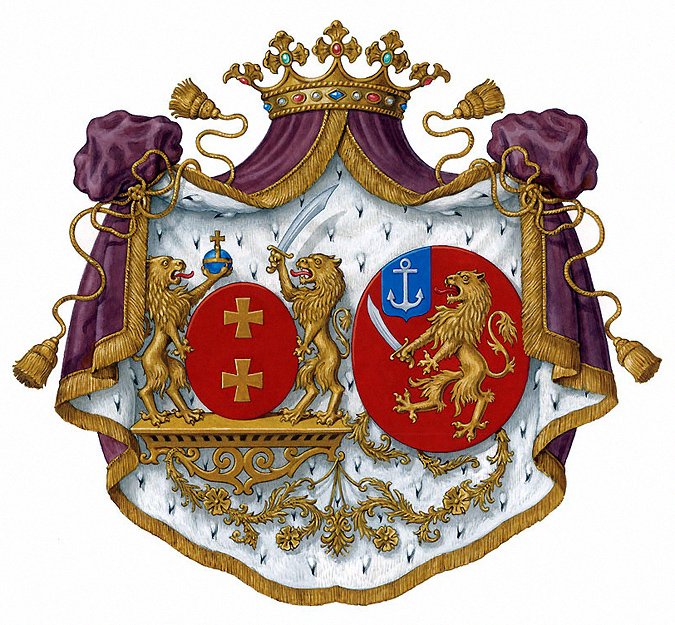 Arms of Maria Islenyeva, ne'e Sheremeteva, from her seal (2nd half of XVIII century). The Islenyevs were untitled and so was the branch of the Sheremetevs to which the lady belonged. The robe and the ducal coronet (of a form which later became alien to the Russian armory) evoke the sovereign origin of the both families. The wife's arms are placed to the dexter, which is possible in the Russian armory.