TEXTS:
ARMORIAL and GALLERIES:
» Modern Russian Heraldic Art
»» The Guild of Heraldic Artists
THE OPEN ARMORIAL:
» Vol.I: the Commoners
» Vol.II: the Noble Families
» Vol.III: the Corporations
» Vol.IV: the Ecclesiastical Heraldry
» Supplement
ALMOST HERALDRY:
» Nobility
ORDERS, AWARDS, INSIGNIA:
» Imperial Orders of Chivalry
» Modern Orders and Awards
» Insignia of Rank and Office
» Fontes Honorum
» Russia and the S.M.O.M.
» Russian Heraldry That Is Not
» F.A.Q.
» Links
Section: Michael Medvedev, GHA[R] chairman
Dr. Richard G. Num (of the City of Adelaida, Australia)
Artist: Michael Medvedev, GHA[R]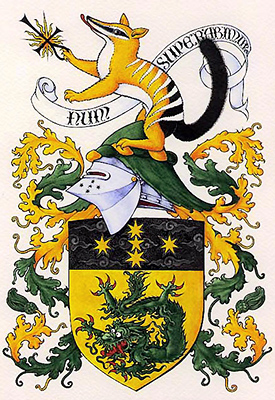 Above: A new rendering of arms granted by the both British heraldic authorities.
Below: Heraldic bookplate.
»» Do you wish Michael Medvedev to make a unique, original painting of your coat-of-arms, flag or any piece of heraldic art?
»» Contact the artist for commission: crusilly@gmail.com
You may do it right here! Or just enjoy more heraldic artwork by the artist!