TEXTS:
ARMORIAL and GALLERIES:
» Modern Russian Heraldic Art
»» The Guild of Heraldic Artists
THE OPEN ARMORIAL:
» Vol.I: the Commoners
» Vol.II: the Noble Families
» Vol.III: the Corporations
» Vol.IV: the Ecclesiastical Heraldry
» Supplement
ALMOST HERALDRY:
» Nobility
ORDERS, AWARDS, INSIGNIA:
» Imperial Orders of Chivalry
» Modern Orders and Awards
» Insignia of Rank and Office
» Fontes Honorum
» Russia and the S.M.O.M.
» Russian Heraldry That Is Not
» F.A.Q.
» Links
Section: Vol.II: the Noble Families
Messrs Ordovski-Tanaevski (of the Cities of Moscow, St. Petersburg, and Caracas)
Author of the modern versions and artist: M. Medvedev, GHA[R]

In the Polish-Lithuanian State and in the Ukraine of old this noble family belonged, from the times immemorial, to the heraldic clan "Labedz" ["Swan"], although another coat, "Orda", was claimed and used as well. The present rendering was created in our days to marshal the two symbols in a unique way, using a rare but rather traditional partition, "per fess inclined".

The partition, in the words of the designer of the arms, "would be obviously sentenced in any Barronial court as an unmedieval monstrosity originated in an incompetent distortion of the good old per fess. Indeed the origin of the inclined fess was in a misinterpretation; yet it may be found in several arms granted by the Russian monarchs both in Russia as such and in the authonomous Poland; so the family had enough of historical reasons to be inclined towards this particular partition".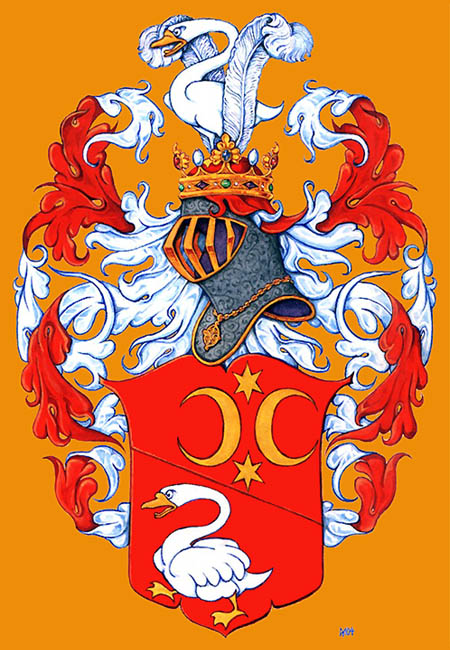 It worth mentioning that the Russian family heraldry enjoys relative freedom as to the forms of marshalling. In principle, two united coats may be impaled, marshalled per fess, per bend dexter or sinister, or quartered; an inescutheon may be used as well. The reason for this freedom is that the Russian arms normally cannot be inherited through a female line and thus any union of different coats is special and unique. Of course, the versions "per fess" and "per bend sinister" emphasise the predominance of one of the coats in quite a radical way.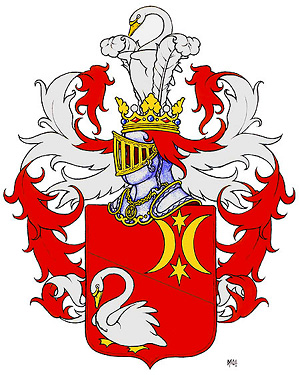 »» Do you wish Michael Medvedev to make a unique, original painting of your coat-of-arms, flag or any piece of heraldic art?
»» Contact the artist for commission: crusilly@gmail.com
You may do it right here! Or just enjoy more heraldic artwork by the artist!