TEXTS:
ARMORIAL and GALLERIES:
» Modern Russian Heraldic Art
»» The Guild of Heraldic Artists
THE OPEN ARMORIAL:
» Vol.I: the Commoners
» Vol.II: the Noble Families
» Vol.III: the Corporations
» Vol.IV: the Ecclesiastical Heraldry
» Supplement
ALMOST HERALDRY:
» Nobility
ORDERS, AWARDS, INSIGNIA:
» Imperial Orders of Chivalry
» Modern Orders and Awards
» Insignia of Rank and Office
» Fontes Honorum
» Russia and the S.M.O.M.
» Russian Heraldry That Is Not
» F.A.Q.
» Links
Section: Michael Medvedev, GHA[R] chairman
City of Wiborg (of the Province of Leningrad)
Artist: Michael Medvedev, GHA[R]

The medieval arms of the city, established under the Swedish rule, were reformed temp. Catherine II, who turned the field Azure behind the Swedish coronets into the Finnish/Karelian Gules. Later Wiborg returned into separate Finnish jurisdiction and its arms were reformed twice: by Alexander I the Blessed as the Gd. Duke of Finland, and in the republican times. In the course of the XX century Wiborg (Finnish Viipuri) became a matter of dispute again and finally was annexed by the Soviets, to become again a part of Russia.

Later, in 1994, the arms of the city were re-established in its last Russian version, i.e. in the version granted by Catherine II. This version was confirmed for the city, then, on the amalgamation of the municipalities, passed to the county, and recently was returned to the city partly restored in its municipal rights (on this occasion, an appropriate coronet was added).

Arms of the City of Wiborg as painted by Michael Medvedev on a Certificate of registration issued by the Heraldic Council to the President of Russian Federation: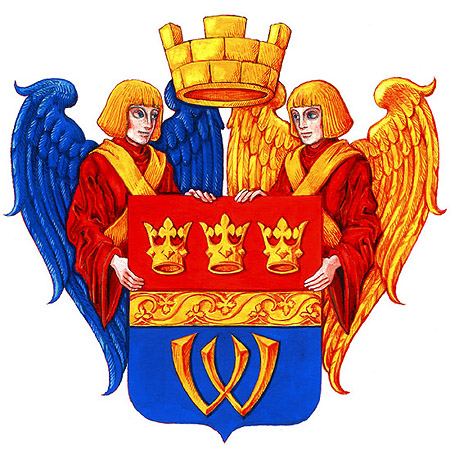 »» Do you wish Michael Medvedev to make a unique, original painting of your coat-of-arms, flag or any piece of heraldic art?
»» Contact the artist for commission: crusilly@gmail.com
You may do it right here! Or just enjoy more heraldic artwork by the artist!