TEXTS:
ARMORIAL and GALLERIES:
» Modern Russian Heraldic Art
»» The Guild of Heraldic Artists
THE OPEN ARMORIAL:
» Vol.I: the Commoners
» Vol.II: the Noble Families
» Vol.III: the Corporations
» Vol.IV: the Ecclesiastical Heraldry
» Supplement
ALMOST HERALDRY:
» Nobility
ORDERS, AWARDS, INSIGNIA:
» Imperial Orders of Chivalry
» Modern Orders and Awards
» Insignia of Rank and Office
» Fontes Honorum
» Russia and the S.M.O.M.
» Russian Heraldry That Is Not
» F.A.Q.
» Links
Section: Michael Medvedev, GHA[R] chairman
Messrs Gamarnikoff (of Singapore)
Author and artist: Michael Medvedev, GHA[R]

Vert an ancient quiver Argent semy of hammers Sable and adorned Or, full of arrows of the same flighted Argent, supported by a tyger Or langued and armed Purpure, and a sea-dog Or langued and finned Purpure and gorged with a collar ringed Argent, both reguardant.
Above the shield, a helmet befitting the family's degree, that is, a steel tilting helmet, with a mantling Vert doubled Or; and on a wreath of the same two tinctures are set for crest four pikes Or with banners Argent, each banner charged with a hammer Sable.
In an scroll below the shield, this motto «Ponderavi Dixi Egi».

The arms were assumed in 2010 by Sergey G. Gamarnikoff and Tatiana A. Gamarnikoff, together with their daughter Mary S. Gamarnikoff.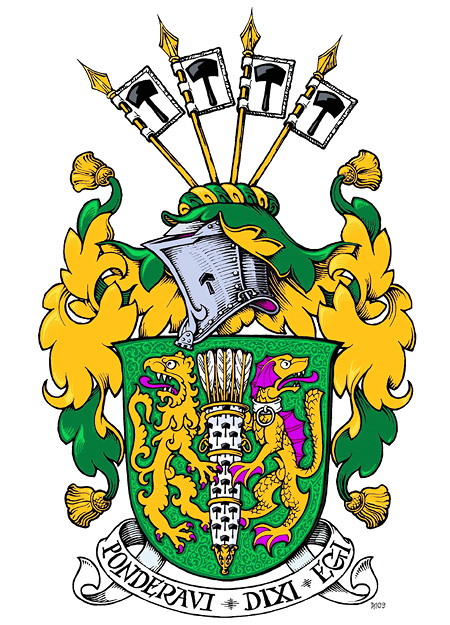 »» Do you wish Michael Medvedev to make a unique, original painting of your coat-of-arms, flag or any piece of heraldic art?
»» Contact the artist for commission: crusilly@gmail.com
You may do it right here! Or just enjoy more heraldic artwork by the artist!