TEXTS:
ARMORIAL and GALLERIES:
» Modern Russian Heraldic Art
»» The Guild of Heraldic Artists
THE OPEN ARMORIAL:
» Vol.I: the Commoners
» Vol.II: the Noble Families
» Vol.III: the Corporations
» Vol.IV: the Ecclesiastical Heraldry
» Supplement
ALMOST HERALDRY:
» Nobility
ORDERS, AWARDS, INSIGNIA:
» Imperial Orders of Chivalry
» Modern Orders and Awards
» Insignia of Rank and Office
» Fontes Honorum
» Russia and the S.M.O.M.
» Russian Heraldry That Is Not
» F.A.Q.
» Links
Section: Michael Medvedev, GHA[R] chairman
Sir Iain Moncrieff of that Ilk
Artist: Michael Medvedev, GHA[R]

Arms of Sir Rupert Iain Kay Moncreiffe of that Ilk (1919-1985), 11th Baronet of Nova Scotia, Baron of Easter Moncrieffe (of the Minor Barony of the Realm of Scotland), and the chief of his clan; the outstanding historian and genealogist, a long-term officer of arms of the Lyon Court and author (together with Don Pottinger) of the famous «Simple Heraldry: Cheerfully Illustrated» and «Blood Royal», as well as other masterpieces.

For a while Sir Iain served as attaché at the British embassy in Moscow - so the acidly anti-Stalinist cartoon in the "Blood Royal" was inspired by his immediate experience.

The arms contain, inter alia, the famous and unique mantling, formed by oaken leaves-shaped elements veined Or.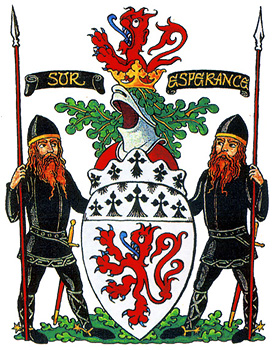 »» Do you wish Michael Medvedev to make a unique, original painting of your coat-of-arms, flag or any piece of heraldic art?
»» Contact the artist for commission: crusilly@gmail.com
You may do it right here! Or just enjoy more heraldic artwork by the artist!