TEXTS:
ARMORIAL and GALLERIES:
» Modern Russian Heraldic Art
»» The Guild of Heraldic Artists
THE OPEN ARMORIAL:
» Vol.I: the Commoners
» Vol.II: the Noble Families
» Vol.III: the Corporations
» Vol.IV: the Ecclesiastical Heraldry
» Supplement
ALMOST HERALDRY:
» Nobility
ORDERS, AWARDS, INSIGNIA:
» Imperial Orders of Chivalry
» Modern Orders and Awards
» Insignia of Rank and Office
» Fontes Honorum
» Russia and the S.M.O.M.
» Russian Heraldry That Is Not
» F.A.Q.
» Links
Section: Michael Medvedev, GHA[R] chairman
Gustaf von Numers (Finland)
Artist: Michael Medvedev, GHA[R]

Arms of the outstanding heraldist and heraldic artist Gustaf von Numers (1912-1978; Helsingfors, Finland), as granted to the family together with the ennoblement by the Swedish crown in 1653, and later, after the Russian annexation, recognised within the separate jurisdiction of the authonomous Grand Duchy of Finland.

The use of a multi-coloured wreath and mantling is typical for the Swedish and Finlandic heraldry. It worth mentioning that wreath as such is allowed for non-nobles in Sweden and in Finland, but also appears very frequently in the noble arms of these countries.

Note the merman who is bringing roses, presumably to a mermaid.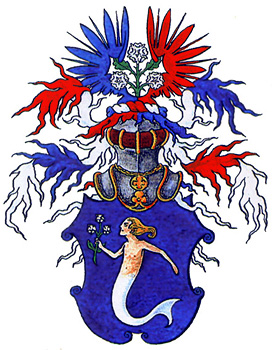 »» Do you wish Michael Medvedev to make a unique, original painting of your coat-of-arms, flag or any piece of heraldic art?
»» Contact the artist for commission: crusilly@gmail.com
You may do it right here! Or just enjoy more heraldic artwork by the artist!