TEXTS:
ARMORIAL and GALLERIES:
» Modern Russian Heraldic Art
»» The Guild of Heraldic Artists
THE OPEN ARMORIAL:
» Vol.I: the Commoners
» Vol.II: the Noble Families
» Vol.III: the Corporations
» Vol.IV: the Ecclesiastical Heraldry
» Supplement
ALMOST HERALDRY:
» Nobility
ORDERS, AWARDS, INSIGNIA:
» Imperial Orders of Chivalry
» Modern Orders and Awards
» Insignia of Rank and Office
» Fontes Honorum
» Russia and the S.M.O.M.
» Russian Heraldry That Is Not
» F.A.Q.
» Links
Section: Vol.I: the Commoners
Mr S. Yeryomenko (of the City of St. Petersburg)
Author and artist: Michael Medvedev, GHA[R]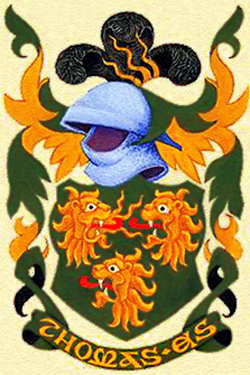 A publisher, publishing editor and a military historian, the armiger designed these arms in the collaboration with the artist and assumed them in 1992.
The arms allude to the fire-vomiting lion's head motif of Polish noble arms Zadora (also borne by several lineages in Ukraine), yet the due distance is kept to avoid any usurpation. The reason for use of this motif is essentially symbolical, although it was also intended to import certain Ukrainian flavour, showing the armiger's family roots.
The Latin motto ("Thomas you are") implies a hint to a Russian proverb, thus indicating the armiger's dynamic parity with the surrounding world.
There was also an original, earlier version of these arms, with a sallet helm (having an ungrilled vizor, and completed with a camail as it is now). The Eryomenko arms are one of the first - and probably the very first - Russian arms in which a "demi-helmet" with a camail was borne, at first in a purely experimental way, as a non-noble attribute.
The same arms as published on the fly-title of the Russian version "Encyclopaedy of Armour" by W. Behaim (St. Petersburg, 1995), edited by Mr. S. Yeryomenko.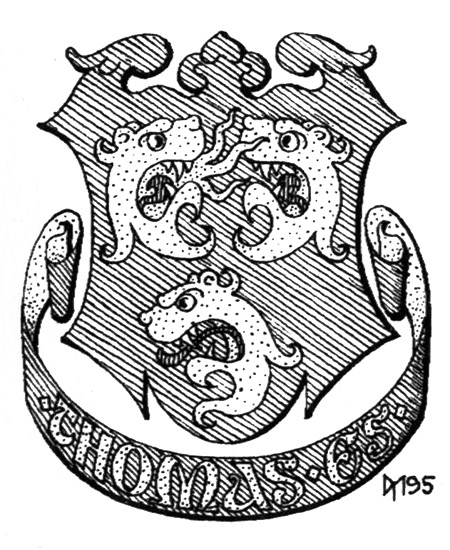 »» Do you wish Michael Medvedev to make a unique, original painting of your coat-of-arms, flag or any piece of heraldic art?
»» Contact the artist for commission: crusilly@gmail.com
You may do it right here! Or just enjoy more heraldic artwork by the artist!