TEXTS:
ARMORIAL and GALLERIES:
» Modern Russian Heraldic Art
»» The Guild of Heraldic Artists
THE OPEN ARMORIAL:
» Vol.I: the Commoners
» Vol.II: the Noble Families
» Vol.III: the Corporations
» Vol.IV: the Ecclesiastical Heraldry
» Supplement
ALMOST HERALDRY:
» Nobility
ORDERS, AWARDS, INSIGNIA:
» Imperial Orders of Chivalry
» Modern Orders and Awards
» Insignia of Rank and Office
» Fontes Honorum
» Russia and the S.M.O.M.
» Russian Heraldry That Is Not
» F.A.Q.
» Links
Section: EURO_PEAN
"Fee, fie, foh, fum…"
Author: Michael Medvedev / Publication date: 2006-08-16
"…I smell the blood of an Englishman!"
This quotation from an old fairy tale may come to mind when one meets the arms of the Bestuzhev. Since XVIII century this ancient Russian noble lineage, represented by two branches – Bestuzhev and Bestuzhev-Ryumin, claimed the English descent and accordingly adopted – with a slight change – the arms borne by the English Bests (Sable a sinquefoil between eight crosses crosslet fitchy, all Or). One may notice that the Bestuzhev's crosses appeared to be blunt rather than really fitchy.
In 1742 Empress Elisabeth created Privy Councillor Pyotr Bestuzhev-Ryumin a count; in the letter of creation both the genealogical and the heraldic claims gained the formal recognition (which was later extended to the rest of the Bestuzhevs). What is more, the inventive Herald Master of the time, Vassily Adodurov, designed remarkable supporters for the Counts Bestuzhev-Ryumin: two ancient Britons (or, more precisely, "two leaves-crowned savage men representing the ancient Britons in their natural appearance, holding the clubs in hands").
So if one wish to know what the ancient Britons looked like (at least in Adodurov's opinion), one may examine the arms in question as painted in the Herald Master's Office temp. Empress Elisabeth:

...and by Michael Medvedev in 1996: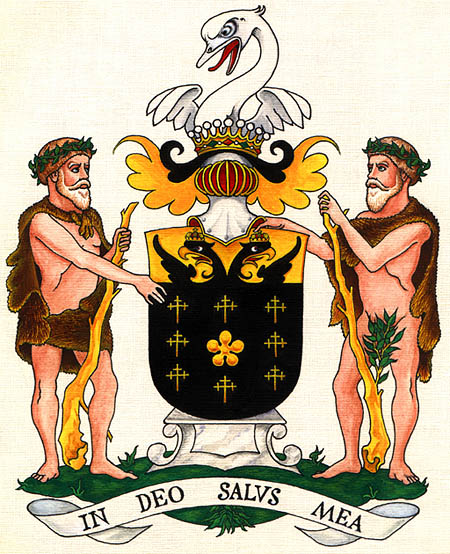 »» Do you wish Michael Medvedev to make a unique, original painting of your coat-of-arms, flag or any piece of heraldic art?
»» Contact the artist for commission: crusilly@gmail.com
You may do it right here! Or just enjoy more heraldic artwork by the artist!