TEXTS:
ARMORIAL and GALLERIES:
» Modern Russian Heraldic Art
»» The Guild of Heraldic Artists
THE OPEN ARMORIAL:
» Vol.I: the Commoners
» Vol.II: the Noble Families
» Vol.III: the Corporations
» Vol.IV: the Ecclesiastical Heraldry
» Supplement
ALMOST HERALDRY:
» Nobility
ORDERS, AWARDS, INSIGNIA:
» Imperial Orders of Chivalry
» Modern Orders and Awards
» Insignia of Rank and Office
» Fontes Honorum
» Russia and the S.M.O.M.
» Russian Heraldry That Is Not
» F.A.Q.
» Links
Section: QUARTERLY
Spring 2007: As If The Skies Did Not Fall...
Author: The.Heraldry.Ru / Publication date: 2007-10-20
This bookplate of a librarian and musician Boris Nikolayevich Kolomarov was engraved in 1923 by Alexander Litvinenko (1883-1932).
This artist, well-known for his bookplates, created his heraldic masterpieces after the Bolshevist Revolution. In many cases he emblazoned old arms; but if a client did not have ones, Litvinenko did not hesitate to help him in designing and assuming a correct achievement, adding appropriate attributes of rank in the case of noble armigers.
The new regime abolished the estates and their privileges but the arms as such, being, first and foremost, tokens of family membership, remained unabolished, although all the officious context was openly inimical to such traditional symbols. Litvinenko's works expressed a kind of cultural resistance, a wish to live a "normal" life.
In this particular work, Litvinenko expressed the client's belief (obviously shared by the artist) that the civic self-esteem (represented by the arms) and the national tradition (hinted to by the ornament) will persist as the stars do.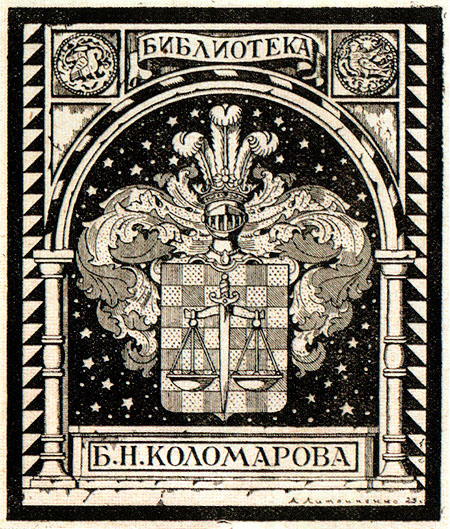 See also:
»» Three Heraldic Bookplates by Alexander Litvinenko (1922).