TEXTS:
ARMORIAL and GALLERIES:
» Modern Russian Heraldic Art
»» The Guild of Heraldic Artists
THE OPEN ARMORIAL:
» Vol.I: the Commoners
» Vol.II: the Noble Families
» Vol.III: the Corporations
» Vol.IV: the Ecclesiastical Heraldry
» Supplement
ALMOST HERALDRY:
» Nobility
ORDERS, AWARDS, INSIGNIA:
» Imperial Orders of Chivalry
» Modern Orders and Awards
» Insignia of Rank and Office
» Fontes Honorum
» Russia and the S.M.O.M.
» Russian Heraldry That Is Not
» F.A.Q.
» Links
Section: QUARTERLY
Winter 2007/2008: Nightingales' Bats
Author: The.Heraldry.Ru / Publication date: 2007-10-10
The arms below left, granted to State Counsellor Alexander Krutikov and his family by Alexander III (General Armorial XIV, 52), were recently painted for a family member, Mrs Natalia «Khvo» [née] Krutikova of St.Petersburg, by Michael Y. Medvedev, GHA[R].
These arms were composed by the Armorial Section of the Senate's Heraldry Department and may serve as a nice example of the official heraldic design of the time. The partition of the fess symbolises the land-surveying (the grantee made his career and gained ennoblement as HM surveyor in the Kingdom of Poland) and the birds are nightingales (the family originated from the Governorship of Kursk, proverbially famous in Russia for the local nightingales' songs).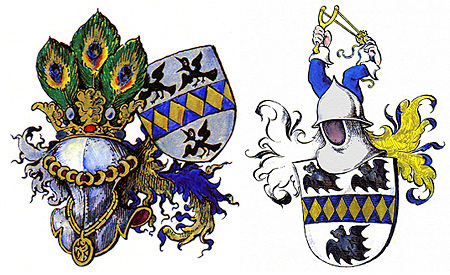 One may compare these arms with those assumed by Mrs Krutikova's husband, Mr Zvinchuk (also by Michael Medvedev); these are echoing the Krutikov arms but contain no noble attributes and with bats en lieu of the nightingales.
Of the two sons of the couple, the elder has his family name recorded as 'Zvinchuk' and the younger as 'Krutikov', but according to the Russian traditional law of arms both inherit their father's undifferenced arms and none of them may claim the old Krutikov nightingales.